Review of Texas de Brazil
May 15th, 2015 | Press
Cecil C. May 14, 2015
A man once told his friend, a father who was preparing a meal, about the importance of presentation, by saying, "The eyes eat first, then the lips, and then the pallet." This prompted the father to create a table set that accentuated the design and taste of the food he prepared. It doesn't matter that the father was the rotund Homer Simpson, that the man was the nasally voiced Lenny, or that this exchange occurred in cheesy cartoon fashion during an episode of the Simpsons called Princess Daughter. The message is clear, before food is brought to the table, or wine poured into a glass, the eyes sample the se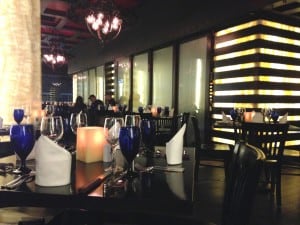 tting—be it of the table or the décor, and set expectations for the coming food. Texas de Brazil, a Brazilian steakhouse and churrascaria took this idea into careful consideration when it designed its restaurant on 3rd Avenue. Between the pillars of alabaster lights, the nearly 40ft tall wine shelf, and tables that overlook busy NYC streets, your eyes are satiated, and your stomach eagerly anticipates a classy dining experience.
Texas de Brazil touts a 50+ item salad bar, offering an overwhelmingly expansive selection of cheeses, vegetables, Italian meats, and various specialty dishes. As is the case with restaurants that have large salad bars with an endless array of options, you run the risk of eating too much bacon and pasta salad. But unless you're here to just eat at the salad bar for $39.99, resist the temptation to overload your plate, and save your stomach for the main course. The pineapple carpaccio, grilled pineapple seasoned with cinnamon and nutmeg, is a sweet and refreshing snack that's easy on the stomach and yet enjoyable with its unique mix of sweet and bitter flavors.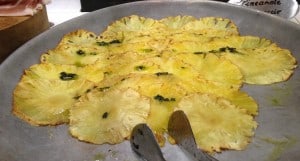 One of the specialty dishes Texas de Brazil offers is jasmine rice. While it didn't have the subtle aroma that jasmine rice is known for, when mixed with the black beans and topped off with a little crushed pepper, it makes for a snack that can curb a hungry stomach.
As is the standard with rodízios, each table has a card with red and green colors. When red, it's a sign that you're not ready for dinner. But when turned to green, so begins Texas de Brazil's main course, an all you can eat parade of 16 different cuts of meat carried to your table by carvers in blue shirts, and bombachas ( traditional baggy pants from South America) tucked into leather boots. The meats are cooked medium rare, unless specified otherwise, and are seasoned with rock salt before being cooked on a charcoal grill. Antonio Santos the enthusiastic manager at Texas de Brazil, explained that by cooking over charcoal fires as opposed to a regular stovetop makes the meat more smoky and juicy. While salt cures and accentuates flavor, most of the pork dishes that were served, especially the pork loin, were too salty. It was disappointing that the pork tasted salty because of how appetizing dishes like the pork loin looked, with meat cooked so well that the carver barely moved the knife to trim the pork from the spit. The pork belly was another forgettable dish as the salty pork was sprinkled with overly generous heaps of the yucca flour, giving the dish a salty, mushy taste.
However, any of the pork's shortcomings were forgotten when the leg of lamb and house special top sirloin were brought out. The leg of lamb with its crispy, golden brown skin, and juicy meat, was delicious. Where as the pork had too much salt, the lamb had just the right amount of seasoning to bring out the flavor of the meat. The house special top sirloin or picanha, a cut of beef traditional to Brazilian cuisine, is Texas de Brazil's signature dish and the best meat that makes its way around to the tables.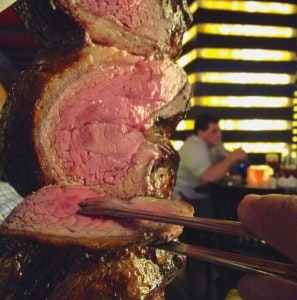 Each piece of picanha is arched and pressed together on the spit to show off the charred layer of fat crowning the glazed meat. If you're eating with other people when the picanha is served, be prepared for silence, as everyone will silently chew and get lost in their food. It's bound to happen when you taste the picanha
But a meal filled with heavy meats needs a light drink that not only parches the throat, but also cleans the pallet. The lime caipirinha, Brazil's national cocktail, and one of Texas de Brazil's signature drinks, is an ideal choice. Made with cachaça, a traditional Brazilian spirit from fermented sugar cane juice, the caipirinha is served over ice in an Old Fashion glass, , and garnished with a lime. The caipirinha is not strong enough to make you start doing the lambada, but its light enough to keep you on your feet if you decided to start doing the forbidden dance to some Kaom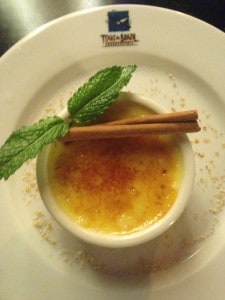 a.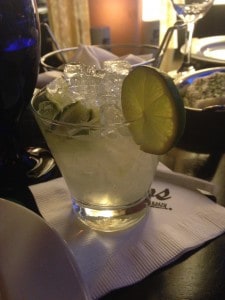 And if after a few rounds of meat and drink later, you're in the mood for dessert, your server will bring over a tray of daunting cakes and pies. The chocolate cake, with layers of moist chocolate mousse, chocolate ganache, and vanilla cream is delicious, and can be shared between two people. The crème brûlée, garnished with a cinnamon stick and mint is a treat to have, with its subtle flavors like lime.
Located on 1011 3rd Avenue, Texas de Brazil is open daily for dinner from 5:30PM – 10PM (10:30PM on Friday's and Saturdays). While some places are all glamour and no substance, Texas de Brazil not only provides the eyes with a elegant setting but also a vast selection of well prepared foods. With 16 different cuts of meat the shortcomings of the pork can be dismissed with the other delicious meats that are offered. For $59.99, you can have all the meat you want, along with tastings from the salad bar. However, dessert and beverages are not included. If you're interested in just salad, Texas de Brazil offers a salad only course for $39.99. But whether you choose to indulge in the charcoal fired meats, or just salads, cheeses and vegetables, come with an empty stomach and leave full with the taste of Brazilian tradition.